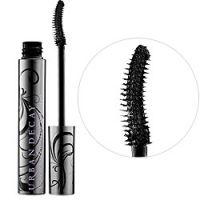 Curls somewhat

I wasn't too impressed with this product. I like the concept of the brush being curved to give lashes that curl but I didn't see a dramatic change. Its a really wet formula and I usually prefer dryer formulas like Diorshow which add volume. Usually when I use curling mascaras they tend to also give the illusion of longer lashes, but this one didn't do much at all. It actually made my lashes look a...read morell tangled and going every which way instead of a nice fan. I have pretty short and thin lashes so this mascara might work better for someone with longer thicker lashes.

CURL + DEFINITION!!

This product was included in Urban Decay's Book of Shadows...so I have been using the trial size tube and I actually like it when I'm doing a quick natural look. The brush gives your lashes great definition and separation without being messy plus it definitely curls your lashes. Also it lengthens your lashes as well...but if you're looking for volume, this is not the product for you. All-in-all it...read more does what it's supposed to do...the only reason it doesn't get a 9 or a 10 is there is no wow factor with this product. You will look nice but no one is going to compliment you on your lashes, that's for sure.

For Super Lashes

This mascara came in my Book of Shadows IV. I was eager to try it out and I definitely wasn't disappointed. It's a nice, rich black that layers on quite easily. Without using an eyelash curler, I still get a nice upwards tilt to the lashes when using this. It's a decent amount of volume with great length. All in all, I like it.

Back
to top