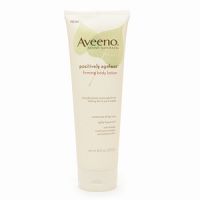 Hmmm

Well, I purchased all of the Aveeno Positively Ageless line and the light scent is the same throughout the line. It has mushrooms to stall the aging and the body lotion claims to lift and firm the skin. I say "Hmmm" because I'm still making a judgment on that claim. I don't know. I prefer pumps for dispensing the lotion and I do already have my favorites (Nivea Smooth Sensation and Dove ...read moreCream Oil) but I'm willing to analyze the results of an Aveeno product. If you are happy with the face products in the Positively Ageless line, you may give this a try. Aveeno is usually worth it.

My new favorite lotion!

I've always loved Aveeno lotions. They leave my skin feeling nourished so in giving this a try I was hoping it was another winner and I was right. Smells fresh and leaves my skin smooth. I'm not completely sold on the firming aspect but with due time it does indeed do this - just one more reason to keep using it!

Aveeno Positively Ageless Firming Lotion

I tried this product for the first time a couple months ago and was pleased. I just use it in place of any other body lotion, when used daily it made a definite difference within a couple days. My thighs and arms showed an improvement and all my skin felt fabulous.

Back
to top