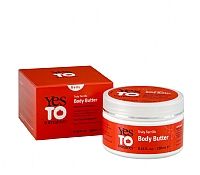 Yes To Tomatoes Truly Terrific Body Butter
As low as
YES TO TOMATOES BODY BUTTER

lOVE THE TEXTURE OF THE CREAM, NOT GREASY LIKE YES TO CARROTS, HELPS MY SKIN STAY SOFT AND NOT DRIED OUT. HAVE EXEXMA AND IT HELPS IT NOT TO FLAIR UP

terrible

i'm really disappointed with this product,i have acne prone skin,and i bought this because it's labeled for normal to oily skin that's acne prone, First of all it's waaay to oily,even for people with normal skin, it doesn't absorb,it just sits on top of your skin for ever,it looks like if you had rubbed oil all over your body,feels nasty and it really doesn't make your skin feel or look moisturized at all,you might as well use crisco instead

Truly Smelly but Otherwise Terrific

I love almost everything about the Yes to Tomatoes body butter- it's super moisturizing without being sticky or heavy, and it lasts a long time. It's great for slathering all over after a shower, and it is totally natural, with nothing that could harm my body or the environment. In fact, it would be perfect except for one thing: the SMELL! It doesn't claim to have any smell, but it's definitely no...read moret unscented. When I tried really hard to like it, it almost reminded me of cinnamon. But then I realized what it really smelled like-- ant spray! Luckily, the smell isn't very strong and fades, but one thing I love in a body butter is a yummy scent. Add this, Yes to Tomatoes, (without sacrificing all the other good stuff) and I'll be hooked!

Back
to top