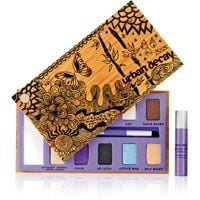 Sustainable Shadow

This is a wonderful pallette. The colors are really saturated and last. They blend really well. All of UD eye shadows are great!

Love for bright looks

I think this was the first UD palette I bought. I was looking around in Sephora and decided to spoil myself. I absolutely fell in love with the colors. I love doing bright looks so this was a must for me. I compared a few different palettes but this one was a must. The color pigmentation is amazing and I use every color in here- not altogether haha. The brush is small for like an all over lid brus...read moreh but I do like to kind of mirror the look on top to my bottom lashline so this brush works great for that. The only thing that I do not like is the packaging. When I have it open I feel like the top is just in my way and not to mention the bottom portion became entirely unglued- which i think should be unacceptable for such a high end product. BUT i will deal with it and just reglue the bottom because i love it so much!

My First UD product

I bought this a few years back and still use it regularly. In fact, it hooked me onto UD so be warned if this is your first UD buy! I use most of the colors( don't use kiddie pool, flip side, or oil slick too much, but they're still very pretty colors). Some of the shades are glittery so fallout is common, but a brush can take care of that. The colors are very pigmented and gorgeous. A great buy and worth the price!

Back
to top