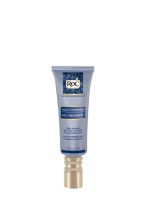 Effective Cream for Youthful Eyes

I am sorry to read that so many women have had irritation issues with this night cream. RoC's "Multi-Correxion® 5 in 1 Eye Cream" has caused absolutely no problems for me, only pleasant and flattering results. My all-time favorite night cream so far (and this is out of hundreds) is Ole Henriksen's; as soon as I apply it, skin is more taut and firm. There is some tackiness, but not enough to ma...read moreke me let go of Ole's treasure. This is not quite the powerhouse Henriksen's is, but it softens, hydrates, improves the overall look of eye skin, and helps to smooth out fine wrinkles and lines. I am fortunate that I do not have dark circles, because this is meant to help them fade as well. I have had negative experiences with eye creams which were heavy in terms of oil, causing congestion under my eyes. No problem with RoC. Ingredients include Hexinol™ Technology, a blend of ingredients made to bring about the aforementioned results. I recognized some of the other emollients: Glycerin, dimethicone, shea butter, panthenol, and a surprise ingredient--Vitamin C! It also contains mica, which blurs light and makes your eyes look better immediately. I would purchase this again if I were not so addicted to Ole Henriksen's version.

good for other uses instead of eye cream

i ended up with a lot of irritation that still hasn't corrected itself a month later. my eyes are really dry and irritated and the lines look much worse than they did when i started. i don't have really sensitive skin, so i can't imagine what it might do to someone who does. i'm actually using it as a spot treatment for dark acne scars and the little wrinkle on my upper lip line instead of ...read moreas an eye cream. it seems to work really well for lightening dark spots, so it might help with dark circles if you can tolerate it. since i'm able to use it in a different manner than it's intended purpose, i won't give it a 1-star rating. but i have to say, use caution if you have never used a retinol product in the eye area before.

Caused redness, still okay

I used this faithfully morning and night for two weeks. It took a while to see any difference. After about a week the purplish tint underneath my eyes was replaced by redness. The skin underneath my eyes became very sensitive and had a slight burning feeling when I washed my face. It's not as moisturizing as one would hope either. Not too great.

Back
to top