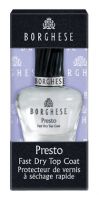 Borghese Presto Fast Dry Top Coat
As low as
Works like the high end brands!

Ok so I have to admit, I did not think this was going to work. I had tried the Barielle version and honestly this wins hands down. I tried this because it was on sale at Ulta. Unfortunately, I am left with a broken heart. Ulta has decided to stop selling Borghese products. When I found this out, I scoured 5, I repeat 5 Ultas to try and find more. It works just as well as Poshé Super-Fast Drying Topcoat. *Sigh!* When I find a polish that works like this AND Poshé, I'll update this post!!

Nice top coat, but not as fast drying as I'd like.

I liked the easy of application of this top coat. And it does seem to last a while. But it seemed to take as long as a regular top coat to dry. It may have had something to do with the 3 coats of color I had to put on to see color from the polish. I usually use OPI's RapiDry top coat, which dries very quickly, and the Borghese top coat took much longer, although it does last & have a nice shine.

Great Top Coat

Borghese has totally stolen my heart with their nail care line. The polishes are exceptional and this top coat is no different. It gives a nice shiny finish and protects my nails for at least a week. No chipping whatsoever. Love it just as much as Seche vie.

Back
to top