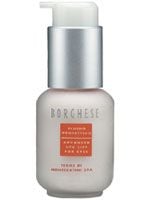 Awesome Eye cream

I love this eye cream. Its a bit thin, but I think that's what makes it better than others I've tried. It doesn't take long to absorb, and it doesn't sting, burn, or irritate my eyes. The area around my eyes is softer as well. Definitely a must-have

I can feel it work!

I have sensitive skin around they eyes and this does not irritate my skin. I can feel my skin tighten up and de-puff i have bought this a few times and do try other things but i keep coming back to this.

It Works!

I have been using the SpaLift for eyes on and off for 15 years. The only reason I was ever "off" was because I felt I could find something comparable at a lower price. Once the finer department stores stopped carrying the Borghese product line, it was even more difficult to find prompting me to try other department store comps to no avail. They were more expensive and were either too greasy or wou...read moreld roll off when I applied foundation. I certainly can't be accused of trying the others before going back to what works. Face it, when it comes to that delicate under eye you need moisture. That dry look or lifting only exaggerates the fine lines. You will not be disappointed in the product and I find the price on Amazon to be outstanding. Well worth it's weight in gold! I'm done experimenting and trying the others -- I'm sticking to what I know works for me!

Back
to top