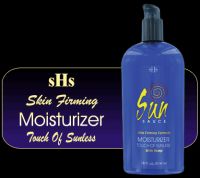 Sun Sauce Moisturizer w/ Touch of Sunless
As low as
My New BF

Luckily, I had an opportunity to test-drive Sun Sauce Moisturizing Sunless Lotion. It's a white girl's best friend. Believe me, without tanning, I'm sallow and ashen white. As a personal trainer, sallow and ashen white skin is not a good look for business. But I found a new best friend - Sun Sauce. I have tried many self-tanning products, but I will endorse Sun Sauce as the very best sunless tann...read moreer EVER. No streaking. It doesn't come off on your clothes. You actually look tan, not orange. Pleasant smell. Doesn't stain hands. Contains anti-aging ingredients. Hydrates skin. Builds slowly. At the gym, my Sun Sauce tan has received so many compliments. "Were you just on vacay?" "No, it's the Sauce." "The sauce?" "Sunless Sauce." And when they don't ask, I tell all my clients about it. Sun Sauce is formulated to deliver the highest levels of vitamins, minerals and rich botanicals to keep your skin looking and feeling its best. We have included the finest quality of the very best ingredients available such as shea butter, monoi oil, sweet almond oil, tea tree oil, unitrienol and healing vitamins that include A, B and E plus complex minerals to give your skin the best care possible. Jamie

AWESOME, sign me up!

I recently stumbled upon a product called Sun Sauce while surfing the world of myspace. I started using the Sun Sauce Moisturizer, available with a Touch of Sunless. I thought "SOLD!!!" Could a moisturizer get much better than that? It is a moisturizer, sunless tanner and its skin firming. AWESOME, sign me up! This moisturizer with a Touch of Sunless is great, as there is not an overp...read moreowering unpleasant smell. It is actually quite nice, being light and absorbing into my skin very well. I have been using it for about 3 weeks now, and I am very pleased. No orange streaks!

Back
to top