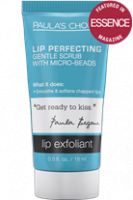 Lip Perfection in Seconds!

Paula's Choice "Lip Exfoliant with Micro-Beads" is definitely one of the most effective exfoliants I have ever tried. I have enjoyed other products, but I found them to be overly oily, and I had a hard time ridding my mouth and my hands of the residue. Paula's Choice uses grape seed oil, Vitamin E, glycerin, wheat germ oil, lanolin, Vitamin C, castor oil, and shea butter--and it is still a PLEAS...read moreURE to use. The product is a thick, non-scented pasted which you rub tenderly into lips until you feel that you have removed dead skin. The beauty of this product is that there is no oily feel afterward which you have to wash again and again with soap or another cleanser. Lips feel truly revived and rejuvenated, free of dead skin cells. They are left as soft and smooth as a newborn baby's skin. (I have to admit that I want to keep applying again and again for the wonderful feel!) Paula's Choice suggests using just a pea-sized amount and massaging gently for thirty seconds in circular motions before you rinse. Your pout is now ready for the wonderful moisturizer from Paula's Choice "Lip and Body Treatment Balm" or the product of your choice. I find that it makes a HUGE difference in how well my lipstick applies and wears. This is a tremendous item!

leaves lips flake-free

I have never bothered to exfoliate my lips, never felt the need to. I have tried the toothbrush method in the past (ouch!) This is very mild, it doesn't leave your lips sore, just nice and soft!

It's gentle and enjoyable!

At first, I wasn't sure what to expect with this product. My first impressions were that it was soft to the touch, emollient and very gentle. For these reasons, I thought that the exfoliating would be minimal, but it worked very well! Usually with exfoliating products, you can feel some discomfort when using. This product caused no irritation at all and did a wonderful job of exfoliating. And it especially works great for the lips! A great, well rounded product!

Back
to top