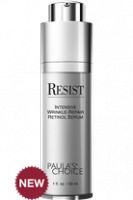 Great Product but Formula Too Oily

I'm a huge fan of Paula's Choice products, for the most part. I love the fact that Paula uses retinoids gentle enough to heal and revive skin without burning it. I love her idea that any skin care product which is used on the rest of your face can and should be used around the eyes! The results of this are good. With consistent use, you can expect help with aging skin, acne, and discoloration....read more Skin will be smooth and definitely appear younger and luminous. My problem with this particular formula, however, is that it was far oilier than most of the others. My skin didn't absorb it easily, despite the fact that I used just the smallest bit necessary over my face and neck. This would be a nine- or ten-star rating otherwise, but the feel took away some stars.

Love it!

First of all, this company has awesome products that REALLY work without animal testing-right on! This product is fragrance, color, and irritant free. My skin tone and texture has improved noticeably since using this product. It is fairly priced. And it is one of the only retinol products my super sensitive skin can tolerate. The packaging also keeps the product clean and the great ingredients potent.

Good for the price, but not Retinoid good Quality.

I've tried ALL of Paula;s dry skin, sensitive skin and some of the combination products. I've been using this product for almost a year switching up my routine with Tetinoin, Nia24 and Paulas's resist serum.. I like the silky texture of this product, but as in Retinoid quality I don't think it's that great. Not better than others Ive used, but for the price especially when on sale and then a $10 o...read moreff referral fee it's cheap, but sadly cheap retinoid quality. So it's not my favorite of her brands, I think her other serums are just as good or better.

Back
to top