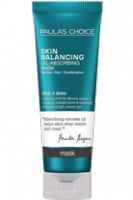 Brilliant!!! A real treat for sensitive skin that is feeling oily

This is an outstanding mask. It only takes about 10-15 minutes. The mask absorbs excess oil andhas a refreshing cooling effect without drying out the skin. It works great on extremely sensitive, allergy prone skin. It was awesome for dry/combination skin. It really balanced my skin, made it soft and smooth, and lessened the appearance of my pores. It also helps me prevent my monthly acne breakouts. I love it--it is a real treat! And NO animal testing!!!

Great extra pamper for combination skin

I use this mask twice a week on my T zone. After I rinse off the mask I apply on my nose a Biore nose strip for blackheads and my blackheads clean off nicely.

I like

Paula's Choice Carbon mask is a wonderful product for people with oily skin and who's battling acne. I find when I use this product it gets out all the impurities and gives you a smoother, softer skin. But is not the best for someone with sensitive skin due to irritation. In some cases my skin is sensitive to some products and this is one of the. It sometimes leaves my skin red and inflamed but I still love using it for getting rid of impurities and handling oil.

Back
to top