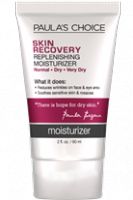 Powerful, Effective Moisturizer

This summer I started using items from Paula's Choice because of all of the buzz I'd been hearing about the brand. I love the site--it explains what the products are meant to do, what they contain, shows research supporting the claims, and user reviews. One surprisingly good moisturizer is her "Skin Recovery Replenishing Moisturizer." It is overflowing with complexion-moisturizing ingredients,...read more including sodium hyaluronate, glycerin, Vitamin E, licorice extract (which is a natural anti-inflammatory often used to lighten skin discoloration), panthenol (an emollient which sinks deeply into skin and gives it a "plumping" effect), calming aloe juice, evening primrose oil (fatty acids which have proven valuable for eczema, psoriasis, and acne), peptides, soothing chamomile, and Vitamin C (an anti-oxidant which can also lighten skin, promote the production of all-important collagen, and possibly reverse skin damage!). This is an all-in-one product, meaning that it can be used anywhere from your fragile eye area to your décolletage. That saves a lot of time if you don't want to tote several products around. It is a relatively thick cream which still absorbs easily into skin. Only a bit is needed for great results. Paula doesn't use fragrance as it can be an irritant for many women (I missed a delicate fragrance and wish it had one). It does give immediate comfort and moisture to skin, but it does not make it unnecessarily oily (even powder foundation works well over it). However, this particular product is not recommended for oily skin--only normal to very dry. This is a truly hydrating cream which does improve skin's appearance immediately and especially over time, and now I understand why it is named "Skin Recovery." This leaves my skin softer than soft, all for about $20.00 for a good amount. And it's not tested on animals--I'm a fan!

Good for eyes

I like using this around my eyes, it doesn't leave my skin greasy like most creams do, just nice and soft. I am not one for getting skin care via mail order, but will be from now on as I really like this!

best moisturizer for dry/sensitive skin

I have rosacea and peeling dry skin. I cant even wear tinted moisturizers because they make my skin crack. I have used so many products out there from drugstore to high end ones and nothing works like this one. I highly recommend this to anyone with intolerable and hypersensitive skin.

Back
to top