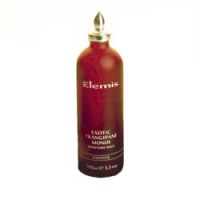 Elemis Exotic Frangipani Monoi Moisture Melt
As low as
Ten all the way without a doubt

I just went on a cruise to Alaska. I always go to the spa it is my favorite thing to do. In fact the Lotus spa on Princess is amazing. In fact, they charge ninety nine dollars for use of the better spa but let me tell you it is worth every penny. It is magnificent to say the least. Getting back to this product. I always hate when y They try to sell me stuff because I end up buying them. I ...read morecannot say enough about Elemis products. This is absolutely amazing. It solidifies so you have to warm it up. It is expensive but worth every penny. It absorbs immediately and leaves your hands feeling unreal. You can put it in your hair too. If you put it on your toes the girl said it will help with in in grown toe nails. I have not tried that yet. The smell! OMG! Amazing, amazing amazing. I have stopped using over the counter products because the professional products work so much better and last much, much longer than over the counter. I believe this line is made in England and can t wait till I go on a cruise to get the,. You can order by mail but when I go on vacation I like to spend money so it works for me. I HIGHLY recommend this product. Yes, spend the money. You will not regret it.

Monoi magic

This not only moisturizes like crazy but smells amazing. The best beachy, coconut , gardenia mix. Heady and tropical just like being on the islands. Can't recommend enough.

Heavenly Frangianpi

I was first introduced to this stuff on a Princess cruise. Oh my goodness. This stuff is SO yummy. You can use it on your hair or skin. My hair has NEVER been in such good condition. I use a little bit too on my skin every night and my hubby always says Mmmm this reminds me of our cruise. Yep. Good stuff. Caution...it does have a STRONG smell of frangipani so if you do not like that scent....read more..this is not for you. Also, if you live in a colder climate, you will have to warm it up first (it has instructions on the bottle and packaging)...it is called MOISTURE melt... Again...just HEAVENLY!!!

Back
to top