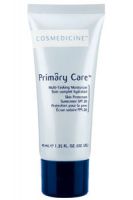 on my 2nd tube

i love this moisturizer... its very thin and liquidy yet it really ggives my dry skin the hydration that i need. i use it over the megadose.... llove it

Good

Having tried most of the Cosmedicine line, I can say I actually liked Primary Care! While it's not great for me all the time because I get shiny easily-- I feel adequately protected and hydrated with this moisturizer and will use it again. The only reason it gets an 8 from me is because of the scent.

Great for irritated and sensitive skin.

This moisturiser is awesome. This relieved my redness, dryness and irritated patches caused by the cold dry weather. Cosmedicine moisturiser is a lightweight gel-creme that is rapidly absorb and maintains moistured and suppleness all day. I highly recommend this moisturiser and love the tube which makes it handy for travelling.

Back
to top