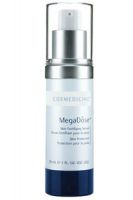 it grows on u

at first i hated the smell, but it grew on me and now i actually like it. its kind of a green smell. as far as the formula, its awesome... it makes my skin silky smooth and covers pores and fine lines. i use Primary Care on top of it and my skin looks amazing. LOVE it

Smells so bad!

I could not keep this product long enough on my face to see any effects. I had to wash it twice to get the smell to go away. It smelled rotten and putrid, and was not some thing that I wanted on my face or hands.

Kinda stinky but it works!

OK so this serum does have a funny smell to it but I've actually grown to like it. I use this serum every morning and love the way it makes my skin feel! It glides on, smoothing any flakies and preps my skin for moisturizer. The reason it smells "bad" is b/c it contains vitamins and there isn't any fragrance added to mask their smell. I really like this serum it is one of the best I have ever used. I use Retin-A Micro at night and this is just perfect for daytime.

Back
to top