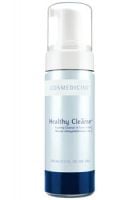 One of zthe Best High-End Cleansers On The Market!

This product is gentle to the skin. It gets the face totally clean. And, it leaves the face feeling perfectly balanced after each use!

Easily gets rid of your "face"!

It's true, it will remove eye makeup and really get all of the makeup and grime off of your skin with no tugging or pulling which is GREAT. Just make sure your hands are moist and use it on dry skin and it will melt everything away! It's really no frills other than that.

Would love to try this

Thanks for this amazing product!

Back
to top