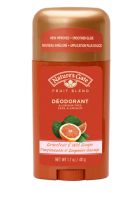 works very well

I avoid using deodorants that contain glycols and aluminum. This is one of the best I found. It helps keep me dry and smelling ice even on hot days

non-irritating...fantastic scents!

natural products are worth the price for their natural ingredients and earth-friendly practices! i stopped using antiperspirants that were harsh on my skin, often stained the pits of my shirts and are full of chemicals. this is a deodorant, so it's not meant to stop sweating, but that isn't a problem for me. i like the interesting scents and clear application. i think this keeps me smelling fresh throughout the course of a day, but not though a workout.

A sure fave!

I love this deodorant! It smells really good and you don't have to worry about the whole paraben and aluminum thing. It isn't an overpowering smell either; a good compliment to a light fruity perfume.

Back
to top