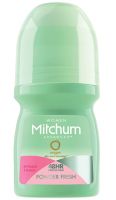 No Odor or Wetness

I have been relying for more years than I care to count. This is an industrial-strength liquid. No matter how hot or stressed I am, I remain completely dry and odor-free with this product. It is best to apply at night, before you go to sleep, so that the ingredients have a chance to work to give you twenty-four hour protection if you need it. Mitchum comes through!

best deodorant and anti perspirant out there!

i have been using a variety of mitchum's products for at least 6 years now and i have never been happier. my family from another country is so impressed with mitchum, when they fly down they buy 20 roll-ons!! it takes a little time to dry, but it's worth it because it lasts ALL DAY! it doesn't get flakey and never irritates my skin because it's unscented. it lasted all through my prom night and even on days of 95 degreese. i don't think anyone would be dissapointed with this.

Lady Mitchum is #1

I believe this deodorant is number because it doesn't leave any residue, it works really well for perspiration, and it doesn't stain your clothes. I've tried just about every name brand deodorant you can get at the drug store and only this one works for me it's also aluminum and paraban free!!!!

Back
to top