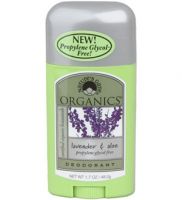 Like a fresh flower

Fresh scent and long lasting. I love that it's organic too, hopefully I am protecting myself from harmful chemicals.

. Very fresh and clean smelling

Im an excessive sweater, so most deodorants are a fail for me haha, but I refuse to use non-organic products on my hair/skin so im dealing. This is pretty good at controlling underarm odor, that is if you apply a couple to a few times throughout the day. I suppose it just depends on the person. The scent is fantastic! So much better then the Rose Geranium/Persimmon one. Overall, Natures Gate's Cha...read moremomile & Lemon Verbena is their best scent in my opinion. Very fresh and clean smelling. Very pleasant. Just sitting around my house it usually helps with my sweating, but its when I go out in public shopping or what not that I notice im sweating.

Great!

I love this deodorant, and totally I love the smell. All natural deodorants fade away after time during the day, especially if you're sweating a lot or changing clothes, and I've been wearing natural deodorants for years, you just learn your limits and reapply as needed. The beauty of this one is the patchouli oil, which seems to remain fragrant longer than other deodorants I've tried. Another rev...read moreiewer mentioned it being hard to apply, and to that I agree to a point, but it depends on the room temperature due to the ingredients in the base of the formula. I just keep my deodorant in the bathroom medicine cabinet where it is warmer than the rest of the bathroom and I have no trouble gliding the product over my skin.

Back
to top