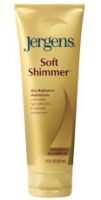 Revitalizes color

Helps revitalize my tan, and skin tone. Makes my skin shimmer and feel super soft. Good price...CHEAP!! I love to mix it with my regular lotion to keep a beautiful color year around.

Great product!

I really like this lotion! It enhances my tan and the price is on point! Unfortunately, I can't seem to find this anywhere anymore! I think Jergens has replaced this with their line of gradual tanners... which I am not too thrilled with. The only real draw backs to this lotion are the scent and the messiness. It has a strange smell to it. Not really perfumey, but also not floral at all. It is just...read more a strange smell that I can't identify. Also, you want to make sure to let it dry all the way before you put your clothes on, especially if you are wearing something white or black, because it will get all over your clothes! All in all, it makes my skin look great in the summer time!

Amazing Product

This lotion is not only moisturizing, but adds a shimmer to your skin. Because I'm very pale, my tan only lasts for about a day, and it's not even that tan. When I use this my skin is litaraly GLOWING. It's awesome!

Back
to top