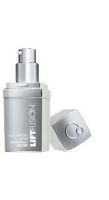 Editor's Rating & Review
This "alternative to doctor-administered anti-wrinkle injections" is for aging women who fear needles and big bills. The shiny silver bottle (about the size of a salt shaker) holds just enough ivory gel to barely justify the price. A daily squirt is all you need. Expect to adapt to a mild, tingling sensation. Skin around the eyes will seem tighter, brighter and slightly less wrinkled while product is on, but alas, results disappear with mere face wash.
Reviewed by Charli on 09/24/2007

How we review products
Fusion is a must

I Love this eye lift. It is like have injections. A must have in my beauty cabinet.

Holy Holy Grail!

Fusion Beauty is another one of my favorite brands. Everything I've ever tried from them has given me plastic-surgery like results, but from a really good plastic surgern. I love this. It's like an eye lift in a bottle:)

Excellent Results

This product worked for me as described. It is a silky ivory gel/cream that smooths on and sinks in easily with no eye irritation for me, and I wear contacts. As the editor's review stated it only lasts until the next face wash but that is quite enough for me. The "tingling" when applied diminishes completely with continued use. This product has lasted me 8 months with almost daily use, ...read morehowever I only have to use about 1/4 of a pump for each eye to get the right amount for me. I would only buy this again because it does work and it lasts a long time which somewhat offsets the fact that the initial price is outrageous for me.

Back
to top