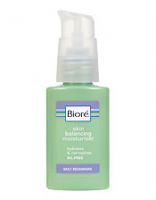 Cheap, effective, brilliant

A- M- A-Z-I-N-G I cant stress this enough, but if your skin is freaking out, this is perfect for you. It also will work wonders for drying up blemished skin, the only caveat being maybe not enough moisture for some people. An hour after application, i just want to touch my skin ( which is bad for pimples, I Know!)It leaves the skin almost velvety smooth. So nice! It also has a great fresh smell. I use this before bed, and i wake up feeling like i had a mini treatment of some kind :)

Perfect for my skin!

I've been trying to find a moisturizer that is hydrating enough, but not greasy to clog up my pores. This is ideal for my skin and lasts all day! Not to mention, it's totally affordable.

This is the best!

I am the Editor-In-Chief of The Fashionable Housewife and so I get to try out and use a lot of different beauty products. I decided to try out the Biore Skin Balancing Moisturizer about a year ago, just to see how well it worked. Within a week, I was hooked. It's so lightweight and smooth. It has a fresh, delicate scent and it cleared up my chronic acne almost immediately. I've been using it ever since. I'm on my 4th bottle of the stuff! I highly recommend it!!

Back
to top