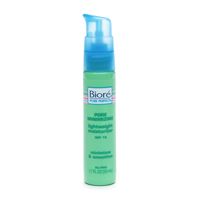 Best summer lotion

I love using this lotion in the summer. It keeps the shine down on my face and gives good SPF protection. I love the matte finish it leaves which allows me to put on makeup without worrying about meltdown before I even leave the house. I would love it if they upped the SPF in this lotion. I am so fair I have to use an additional sunscreen, and it's hard to find one that doesn't cause breakouts...read more, shine, or burns when applied. To be able to use this lotion only would rock. I like to mix in a bit of my foundation and primer with this to keep it light when the weather is really hot and humid to minimize the layers (sunscreen, lotion, primer, foundation, makeup) I have to wear. This combo works pretty well, actually. I am also really happy that Biore has come out with the new line for people who don't have breakouts but aren't ready for Botox. I love this line!

Great stuff

This moisturizer is great for my always dry skin. At least now I can put on foundation without all the flakiness.

According to my mom, this would be a 10.

My mom says she read it in a magazine that this stuff works just as well as the Estee Lauder pore minimizer, she bought it and it turned out the magazine was right, and really saved 60 dollars. She says she'll never buy the Estee Lauder stuff again!

Back
to top