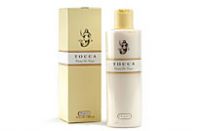 Tocca Crema Da Corpo Body Lotion
As low as
Too Heavy/Not Like the Wash

The body wash is light and fresh smelling, nothing like the heavy, stale smell of this lotion and perfume. The wash has the light orange scent, while the lotion and perfume smell like gardenias stuck in a closet for awhile. I agree with the first viewer that there is no consistency. I'd smell it first and not purchase thinking it is identical with the body wash.

Great lotion, but scent doesn't always match other products

This is a lovely lotion; not too thick and not to thin. My only caveat is that the lotions tend to smell a bit different from the other products in the collection. For example, Stella, which is a citrusy, clean scent in the candle and body wash, is a lot sweeter and more perfumy in the lotion form. Definitely smell this before you buy it because if you're familiar with the candles, the scents in the lotion are a bit different.

Back
to top