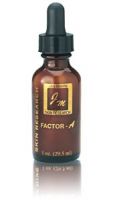 Jan Marini Skin Research Factor-A Lotion
As low as
Super product for oily/acne prone skin

I have been debating on whether it was time to start using Retin-A as I am nearing 40 and want to prevent fine lines and age spots. Since I am also on the oilier side and tend to have random breakouts, I needed something to help with those issues and not cause more breakouts or clogged pores. This product has truly been a Godsend. I wake up with plump, refreshed skin that has a more even tone a...read morend clarity. I love this product and will continue to use it and hopefully will not have to move to harsher Retin-A.

Simply the best anti-aging treatment ever!

I have been using this product for many years it works great! I use it everynight and it keeps my skin looking and feeling soft, smooth and even. This is a great product for oily skin, my skin is very oily and I used to get alot of breakouts, not since I have been using this, it keeps my skin in great shape and tightens the pores. This is great for lines and wrinkles, people ask me what I use all ...read morethe time(i get alot of compliments on my skin, and I never wear any make-up). I just can't say enough about this product! It is simply the best an absolute must have for everyone!

Back
to top