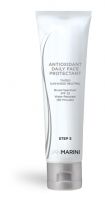 FACE

I love this product and it smells great!

Best Sunscreen Ever

I love this sunscreen. It is the best sunscreen for the face that I've ever used. It goes on nicely and soaks into the skin within less than a minute. It has microspheres in it to protect your skin from the sun. It has a nice light pleasant smell to it. I highly recommend this. I did try to switch to Neutrogena's SPF 70 for the face with Helioplex, but that was wet and sticky feeling, and it stung my face. This doesn't cause any irritation for my sensitive skin. Love it!

A great first step

I've used Jan Marini Antioxident Daily Face Protectant for the past 3 years and will continue. I apply 1 pump's worth every morning and it's enough for both face and neck. The lotion is quick to absorb and leaves no sticky residue. It's my go to first step everyday. The price is reasonable considering a bottle lasts at least 2 months.

Back
to top