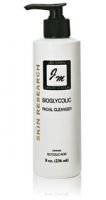 Awesome Product!

I have been using this cleanser for about a year and it is the best one I have ever found for my skin. I have dry skin but it becomes oily if I use too much moisture on it and I break out. This cleanser is gentle. I never have breakouts anymore and my skin feels very fresh and clean. I would recommend this product to anyone. It also works very well with the Bioglycolic Facial Serum and Cream.

I will never go back to using any other facial cleanser again!

This face wash is great! I honestly notice a difference if I forget to use the product for a couple of days. The cleanser makes my face literally glow and shine with a new found radiance! It unclogs my pores and I haven't had a breakout for months! The face wash brings out my natural skin color and takes care of any spots and blemishes within a blink of an eye!

Use it correctly!

I suffer from acne and had multiple acne scars along my chin and debated getting facial treatments to get rid of them. My cousin recommended this to me and I was like why not spend a little before throwing away hundreds on the treatments. I have been so amazed with the effect this has had on my skin. I use this along with the Bioclear cream and have noticed over several months the acne scars fadin...read moreg, my skin texture becoming smoother and more clear, and my blackheads disappearing!! At first I was washing with water but found that I was using it wrong!! I now massage it all over my dry skin and let it sit for about 2-3 minutes before washing off. Also for new users, the skin may slightly burn due to the high amount of glycolic acid, but over time the effect wears off and now I don't feel the burning. I absolutely love this product and would recommend it to anyone who suffers from acne or have acne scars that want to fade.

Back
to top