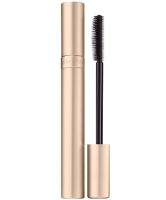 For people who want natural-looking lashes

I can see this appealing to people who just want a subtle, natural look. It's not going to clump and goes on very nicely. Also doesn't flake during the day. I'm a Jane Iredale fan, and appreciate their natural ingredients. But for me, there just isn't enough drama to make it worthwhile.

Meh

I'm on the fence about this. I think it's a decent mascara, and held curled eyelashes relatively well. However, there isn't an outstanding factor. The lengthening conditioner sample that came with it didn't do much for me.

Not impressed

Good - went on smooth and no clumps. Bad - looked just like my natural lashes. I applied the mascara to one eye and left the other bare and they looked exactly the same after multiple coats. Definitely not worth the money to me. I prefer "wow factor" lashes over natural looking.

Back
to top