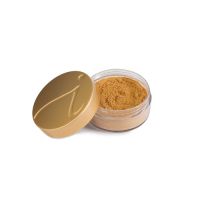 Great Foundation

I strayed away from this and came back because i realize it was the only mineral foundation that was natural and glowing without the sheen sparkly look. I got this is warm sienna i'm an Nc42. I have used BE before and started getting allergic and itchy..that was when my quest for mineral foundation started. Jane iredale is the best!!! I have used liquid foundation such as Estee lauder double wear ...read morein shell beige, diorskin in sand 031 (a tad too light), Mac pro-long wear (looks like a mask), Bobbi brown long lasting foundation in honey (Too orange and slip off my t-zone). I recommend this mineral foundation to anyone who wants glowing skin without the mask-like look. I began using this product in the spring. I was experiencing oily T-zone & moderate breakouts with my Prescriptives that I had been using for years. Tried BE but hated how it made my pores seem even larger. A friend whom I had always admired how her makeup looked told me about JI & convinced our local hair salon into selling it. I am soooo glad!! This is HG for me. Does not make my skin feel oily, my pores do not look large, my skin appears smoother & has quit breaking out! (except for maybe 1 or 2 during that time of the month) I use the TM first, then the AB & finish with the Pom Mist! Love it!! I apply this with the "Handy" Jane Iredale brush using small to medium circles. Amazing base came with a complimentary POMMISST Hydration Spray which smells great and somehow makes my skin feel like I'm wearing no makeup at all. I have light, freckly skin and I use the color bisque which counteracts with my pink undertones. So happy to have found this :) My one and only complaint is that for the price of all the Jane Iredale products you'd think the packaging would be nicer! The big revelation for me was that once it was on I felt clean and bare faced but looked soft and healthy! The application with the loose is tricky, you need to have the proper brush and you almost have to pat it on in downward strokes but once you get the hang of it, you can layer it to get the coverage you want. It never looks dry and I have very dry, mature skin. I invested in the D2O Hydration Spray that the salon recommended to use once the makeup is applied, to 'set' it and it does, you just spray your face damp and then pat any spots that need evening out with your fingertip. This makeup line is very expensive but since you don't use much I think it will last a long time. I'm undecided about buying it again, purely because of the cost, I may try other loose mineral makeup that's available out there to compare but that said, it is a lovely looking makeup that makes your skin look wonderful and healthy and you don't feel like you're wearing makeup, that's a big plus for me!

Great cover up.

Soft, light to the skin and it is very healthy for the complexion. I love this loose mineral coverup.

A really good mineral foundation

This foundation gives pretty good coverage, will give a glow to your face, and is long-lasting.