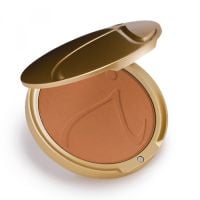 COMEDOGENIC!!!

I should've researched better before i bought this compact. It get's such glowing reviews and is known as "the skin care makeup" so how could it be bad for my skin? Within the first few days i started getting irritated red bumps, which i thought was due to a new soap i was trying to i stopped using the soap (couldn't be the $50 powder on my face right?) In the next week i started getting...read more the huge, painful, cystic acne under my skin (which i have NEVER had before) I did some exploring of the ingredients and found the algae extract is severely pore clogging! How disappointing! I took it back and my skin cleared up within a few days. I wanted to love this so much, i liked the coverage and the dewy look, but it didn't look good unless you sprayed a setting liquid over it ( i hate extra steps).

Is a Fairly Decent Mineral Makeup Base

I have three compacts of this stuff in Warm Sienna, as I find that it is a fairly univeral shade for medium complexions. It gives light-to-medium coverage based on how much or little you apply. The best brush to use when it applying it is with the Handi Brush. It doesn't break me out which is a huge plus, but it goes on a bit too matte at first, but then it mixes with your natural oils over t...read moreime. One of my main gripes about this product is its high pricetag. As, even though it is a fairly decent foundation, it truly doesn't warrant such a high price, in my opinion.

Love this Foundation

I am a huge fan of this foundation. It gives me medium coverage, lasts longer than other powders and the spf coverage is decent. The powder compact makes it easy to re-apply when I am out in the sun. I also love how Warm Sienna matches my skin tone perfectly.