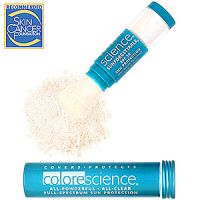 Cleanliness Question

I read the review that mentioned she wasn't sure how hygenic it was to keep reusing this brush. Well...Coloresciene has a brush cleaner that you spray on a kleenex and run the brush on. I clean mine everyday.....especially after my daughter borrows it!

Best Sunscreen

This sunscreen gives you all the protection that you need from the sun without leaving any type of film or residue. It is perfect for children as it is made from natural minerals so it causes no irritation and is quick to apply. It is also perfect for the men in our lives who need sun protection but are hesistant to use sunscreen as somehow that is not manly. I was able to get both my husband and ...read moremy father to use this. My husband is the hardest one to get to try anything and he loves this product as well. The best part is that a little goes a long way so it will last the whole summer long and you get a lot of bang for your buck.

No Sun Worries

This was the best product ever!!! Good sun protection and a beautiful glimmer. Thank you for a fres new look.

Back
to top