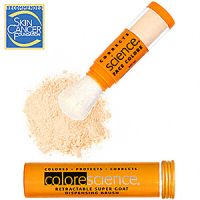 Not worth the price

I bought this at the suggestion of my facialist. What a waste of money. The powder doesn't bleed through the brush easily. I end up swirling with the brush for a long time. The brush isn't made of soft material. After I use it in the morning, I feel like I took off a layer of my skin. The worst part is, it doesn't even have good coverage. Don't buy this, it's not worth the price. Bare Minerals may be messier to use, but it looks gorgeous on skin.

Amazing physical sunblock that works

It isn't cheap, but this product is amazing. I use it for daily sun exposure, and one day, decided to test it in strong sun. I was shocked that a few swipes of the brush were enough to keep me from burning. I am extremely fair, and burn quickly, so this is a breakthrough for me. I have California Girl shade, which doesn't show on the skin but works, works, works. Just note that there is a collar i...read morenside the brush that can be pulled up to protect it...it took me two years to figure out how to close the thing without squishing the brush!

Not worth the price

I've been using minerals for years and I have tried just about all the major brands. I had used this years ago and hated but I thought I'd give it another try. Big mistake, there is no coverage and its way too shiny. If it cost $15 I might would say it was okay, but not at this price. I'll stick to Pur minerals.