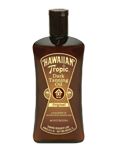 First time user

I moved to Florida this year and already have spent a lot of quality time out by the pool. I found this on sale(usually it's too pricey for me to want to try it) and I think it has officially displaced Banana Boat as my favorite brand of tanning oil. It absorbs well and is long lasting. I liked that it left my skin very soft and the scent is lovely. I got a really nice, dark and deep tan after my day in the sun.

Good

Not a big fan of oily stuff but this smells so good and a great way to stay moisturized while you're in the sun.

Hawiian Tropic Dark Tanning Oil

This has been around forever and that definitely says volumes! I have been around this since I was 8 years old (30 years ago) because it was the only product my mom ever used. She would rub this in everywhere and have me rub it in to her back. She always had a dark brown tan and a big part of it was this product. I have always loved the smell and the consistency didn't bother me at all. My mo...read morem did quit laying out in the sun a few years ago (major sun damage) but if you want a great smelling, non-dripping, sun catching, tanning oil, this would have to be the product for you! I am as fair as fair can be so no matter how I tried to get tan, it never worked. I always burned and envied my moms cocoa brown tan!

Back
to top