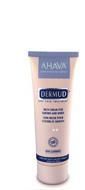 Ahava Rich Cream for Elbows and Knees
As low as
Got a Sample

And fell in love. I have been on a mission to soften my rough knees and elbows. I have even stopped leaning on my elbows at work in an effort to not beat up the the skin on the elbows. And this is a wonderful product. My elbows are softer, and as a result is responding to the fade cream to lighten themnow. I will keep a tube of this around.

say goodbye to dry

After using this product, my skin improved significantly. It got rid of the dry flaky skin around my elbows. I even used it on my cuticles, and loved the results. This is a product line that is "body friendly." I have sensitive skin and I have never had a problem with this skincare line. Also, try their Ahava Shower Gel, and enjoy the heavenly smell.

A dream come true..

I love this product the scent is wonderful and the outcome is to die for... the cream leaves your elbows and kness soft and smooth takes the dry skin right away I LIVE FOR THIS PRODUCT... it's great in the winter and you never have to keep re-applying it.. It last's ALL DAY I use it in the morning and then right before I go to bed it works wonders !!! I recommend this to everyone !!!

Back
to top