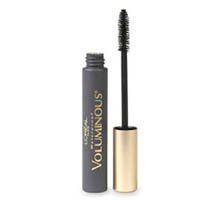 Stays Put and Leaves Lashes Soft

This is not my all-time favorite mascara, but I find myself purchasing it on a recurring basis. I like the fact that it thickens my lashes and leaves them lush and soft. Far too many don't do that except for Maybelline's "Full and Soft" and a few others. There is a problem with smudging, but if I have Revlon's or ELF's makeup remover tool with me, it's no problem. When I want lush lashes and know I'll be in humidity or around water, I reach for this waterproof version.

Completely Different From the Originall

The L'Oreal Waterproof Voluminous Mascara is nowhere near as good as the original. I couldn't get this to layer on evenly but the worst part is you cannot get this off! You will go through tons of eye makeup remover and still not get it all. Not for me!

Just Awful!

I recently was on the prowl for a good waterproof mascara and I always look at the reviews here at Total Beauty before I purchase. This was one rare instance when the product truly did NOT work for me. I applied my standard two coats and within just a couple of hours, I was getting flaking in my eye and it was more than uncomfortable - it was painful. It felt like I had sharp pieces of medal. I wa...read mores driving at the time, and had to pull over to check my eyes and try to rinse them. Then, later in the day, maybe 6 hours later, I had very "nice" racoon eyes, which frankly, I have heard many women complain about this issue with all sorts of mascaras but I personally have never had this problem. Then, in the evening when I went to remove the product, I at first used a makeup remover wipe; I kept wiping and wiping and still there was residue. I then switched to a waterproof liquid remover and wiped and wiped and couldn't get my lashes completely clean. When I woke up the next morning, I had a black line under my eyes from the mascara. This truly was an awful product for me and in particular due to the painful flakes, which I do not wear contacts or have sensitive eyes. The ONLY thing I liked about it was the color, Carbon Black, which was the Blackest mascara I had used. The color was very nice and I am disappointed.

Back
to top