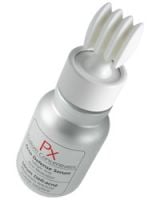 cleared up my skin

acne medications are supposed to dry up your skin. what would happen when u put a serum with an acne medication? suprisingly clear and well moisturized skin. love the two in one of the product.

NOT available any longer!

Sad, total beauty has several products rated as best, in skin, make up, etc that are NO longer being made by the listed product maker. Prescriptives acne defense is one of them.

Exclusively from the editors at Total Beauty

Get the Buying Guide to see these top-rated products!

Get it now »

tranformation

I've had generally clear skin with the occasional breakout every now and then for most of my life. That completely changed when I went to India last summer. The new environment wreaked havoc on my face and I was covered in painful acne of many types. When I came back home I began a search for something that would take me back to the golden days. Enter Prescriptives Acne Defense Serum. Its an amazi...read moreng serum. My skin instantly began to clear and I was so happy about this product. It isn't a complete miracle. You still have to have an overall great skin regime, but this will definitely add to it. It treats and prevents breakouts very well. A few months ago, I did run out of this product. And I've been to lazy to go grab it again. Three newly formed blemishes on my face agree with me. It works, its gentle, and its easy to use.

Back
to top