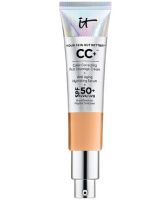 The light color is perfect!

There's not a lot of shade ranges of this so I was nervous to see if one color would suffice. Luckily for me the light color was the perfect match for my light Asian skin tone. It blends beautifully into my skin. I wouldn't say this CC cream is "full coverage" like the name. It has a light to medium coverage BUT it definitely has more coverage than any other CC creams I've tried. This feels really...read more lotiony-like and once it sets, not at all greasy. I love how glowy my skin looks after putting this on. And when I say glowy, I mean glowy. Not oily or slick looking. This definitely has some brightening factors. I got this as a sample from Ulta and I love this. I just wish there were more range of colors and more full coverage. I can wear this and not worry about sun damage because of the SPF 50 in this. Great job It Cosmetics! After trying your eyeshadow palette, I was starting to give up hope on your line but now you've totally redeemed yourself.

Good but...

I agree with the other reviewers! This is amazing, but I wish that Jamie Kerns would add different colors. A lot of her products are great, but when it comes to foundation, concealers, and her CC creams, she lacks in colors. I unfortunately always have to buy two to three products in order to get the correct color. I marked this down for the lack in range of colors available.

Natural Finish

A little bit of this product goes a long way so apply in thin layers and set with powder (especially for oily skin) to avoid cakeyness. It blends out easily and nicely with a brush, which I prefer over a sponge since I've noticed that the sponge would lift away some of the product. The finish is very natural looking but my pores seem quiet prominent after couple hours. It also leaves the skin feel...read moreing a bit tacky. Not the best looking over textured skin. Overall a great product if you have smooth skin and set it properly based on skin type!