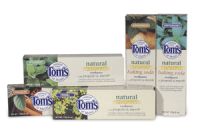 No way

Ok I'm all for natural things, but this toothpaste just isn't for me, my breath doesn't stay fresh for long and the taste is just gross, it's not good for me and I wish I hadn't bothered to try it. It makes everything taste weird and the back of my mouth feels tight when I use it.

No thank you

I agree wth other users that this takes getting used to, but I would prefer not to. If I don't like a product right away, I don't want to 'stick it out'. I tried Cinnamint and it definitely wasn't for me. My teeth didn't feel as clean as when I use Crest Pro-Health. If using all natural products is a deciding factor, then this might be for you.

Good fluoride alternative

These are good toothpastes for people who can't or don't want to use fluoride. The fennel flavor is quite nice but you can buy it in other flavors also. I love these!

Back
to top