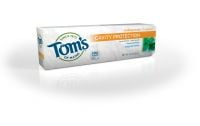 A Refreshing, Whitening Experience!

I truly did not expect to like this toothpaste. I've been using more well-known brands throughout my life; I also buy a clay toothpaste for $19 to help remove all plaque and film from my delicate teeth. But I was given a sample tube and used it for a week. I demanded a lot from it: Whiter teeth, a truly clean feel, a pleasant taste, etc. And all of my expectations were exceeded. I highly recommend this!

Review subject

Not bad, and the natural mint flavor was a refreshing change.

Where's the mint?

I switched to Tom's because of the sodium content in typical toothpaste. It often left me thirsty for hours after brushing. On the plus side, I am not too thirsty after brushing with Tom's; however, the Spearamint is less than minty. It is more pasty than minty and I wish the flavor was more intense. It is almost a little gritty, too. It makes my mouth feel less clean.

Back
to top