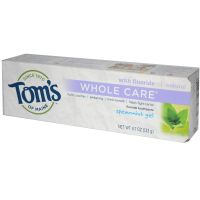 such a tom's fan

i have my whole family using this, great product

Tastes great

I have been looking more into going more natural with my personal care products lately. Toms just seems to be one of the most trustworthy companies who don't use nasty chemicals in their products nor do any type of animal testing. I tried this and was a little skeptical at first, but it tastes great, almost astoundingly like the old school, plain Colgate back in the day. It is a pleasure to use and cleans my teeth very well.

Peppermint!

After I learned about the animal testing done by big companies and all the chemicals ( I mean, they're afraid the put on the label!), I started to use Tom's (once I found it) I use the the peppermint and I love it!

Back
to top