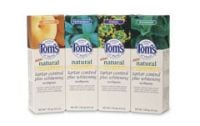 ew

i got this in peppermint and i thought it would be good but it leaves a really weird taste in my mouth

Apricot & Peppermint

I have been using this toothpaste for a couple of years now and it is fantastic! I love everything about it. The non-fluoride formula, the awesome flavors, the whiting ability. This paste is easy to find in peppermint but the delicious apricot is a rare, fabulous find! I love how this does not make my mouth all tingly and weird feeling like crest/colgate crap does. This toothpaste will not last on...read more your breath all day but I do not mind that. It is a very nice sized product for a very tiny amount of cash-- & who does not love that?!

Great Natural Cleaner

I really like this toothpaste because it is made with natural ingredients and foams up well so you know it is working. It does a great job cleaning your teeth and has really improved the look of my smile by whitening my teeth and cleaning off stains easily. This is a great toothpaste that is perfect for cleaner teeth the natural way.

Back
to top