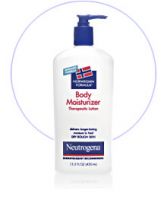 moisturizing, but feels funky later on...

I love Neutrogena's lotions and stuff, and I've used this moisturizer off and on in the winter. I like the way it goes on, and I like the smell, but I don't think it absorbs all the way in. It feels like it does right after putting it on, but later in the day I notice that my skin is kind of sticky with it, which is kind of obnoxious. Other than that, pretty good stuff.

Neutragena Norwegian formula

One of the best drugstore lotions ever! Skin stays soft aloe day. I usually like my products to have a little fragrance ; with this lotion I don't miss it at all. Not easy to find in stores though.

Amazing

I have a rare skin condition and suffer from very dry skin and have tried many products over the years, but this was my saviour! It is absolutely brilliant, keeps my skin soft all the time and has prevented me having more treatment, I cannot speak highly enough of this product. I believe the manufacturers have stopped making it now and I am having trouble getting hold of it, I really don't know what I will do as nothing compares to it !

Back
to top