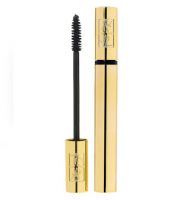 Editor's Rating & Review
<em>Au revoir</em>, lash curler. YSL promises to make you forget all the 'barbaric techniques' of curling lashes with their "multi-talented" mascara. Aside from looking gorgeous, the product holds its own. The short- and straight-lashed may need four coats to get noticeable curl without help from a curler. Experimentalists will be pleased with strong pigments while traditionalists will enjoy a subtle, refined look. Though unnecessary and potentially allergy-inducing, a light rose scent adds a glamorous touch.
Reviewed by Charli on 01/18/2008

How we review products
Good

Kind of expensive for a mascara. I honestly don't really see a difference between some of the drugstore brand mascaras I have. Don't get me wrong, this mascara is great but I prefer to stick with something that's less expensive and has the same effect.

No more need for a lash curler!

This mascara rocks! It really lengthens and curls each lash. I look like I am wearing false lashes when I use this mascara! Definately worth the price.

Nice

Nice thick lashes with no clumping or smudging!

Back
to top