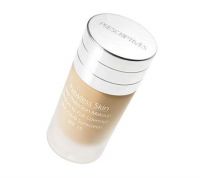 Editor's Rating & Review
Hate the feel of foundation? This lightweight liquid wears nice and sheer. Although it offers substantial coverage, it blends seamlessly so it looks like your skin -- only more perfect. Totally flawless? Not exactly. But it does have bonuses, including SPF 15, skin-repairing enzymes infused with yeast, and antioxidants, which "work synergistically to help protect and repair skin." Ambitious? Yeah. But the science is believable. It was an industry favorite when it launched.
Reviewed by Kristen on 09/25/2007

How we review products
Fantastic product

Love love love Prescriptives facial cosmetics. I have been using their foundation on-and-off (it's expensive so I switch it out with my Revlon Colorstay for dry skin) since I was a teenager. They have every shade under the sun including my hard-to-match-exactly-right fair skin with olive undertones. I love the sheer coverage that feels super light but still evens out your skin tone, the texture, t...read morehe feel, the flawless look, even the smell (slightly citrusy)! This is a great, basic foundation and if it were just a teensy bit more affordable I'd use it every day.

prescriptives flawless skin foundation

Help, they are going away. This is the only foundation I've found that I like! Does anyone have any suggestions for a substitute?

Bye Bye Prescriptives

As a makeup artist, this line had some of the best foundations I've ever used, but sadly, prescriptives is gone!!