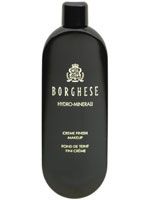 Get ready, I have been using this makeup for over 25 years!!

Let me tell you what I love about Hydro makeup, It gives me the coverage without the weight of cream makeup. It looks flawless and natural. I have tried other makeup in the last 25 years but always come back to Borghese Hydro makeup. Every makeup I tried leave me tacky, heavy and uneven. This is not fun, I am happy to recommend this makeup. You will love it. Enjoy!!

Perfect finish

Leaves me looking natural, as if I weren't wearing any make-up, and instead simply had perfect skin, this is the best cosmetics line by far!

I've been using this product for 15 years!

This is the only product that I have found that makes my skin look natural. It actually helps make my skin get better.