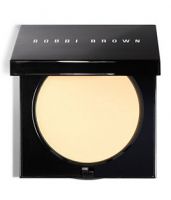 Great for setting makeup and touch ups

I bought this because I wanted something that would work well as a blotting powder for a midday touch up. I often apply this twice a day. Once in the morning to set my under eye concealer and foundation and then once during the day if I am getting a bit shiny. For these purposes, this powder is wonderful. This is really sheer, like the name suggests, so it won't make your face look cakey or ov...read moreerdone. This really helps my foundation stay in place and tones down the more dewy foundations I have for those days that I don't want to look as glowy. I have had my compact several months, use it everyday, and it still looks new. The mirror is nice and large and the packaging is sturdy so it is great for your travel makeup bag. The range of colors that Bobbi Brown has for face products is excellent, so you shouldn't have any issues getting a great match to your skin. This isn't going to provide much coverage, but that is not the purpose. It merely completes your face base and helps control shine. For this, I absolutely love this powder and plan to repurchase when my current compact runs out.

This stuff is great for me

I purchased close to 5 setting powders in one week trying to find the PERFECT one! I finally got this stuff and LOVE it for setting my concealer and foundation both. I use extra underneath my eyes and it gives me even more coverage and brightens my under eye area. (I have SEVERE dark circles.) it looks good in pictures, and keeps my skin pretty matte all day. I was concerned at first because ...read moreof it containing talc, but I did some research and cosmetic grade talc actually is not bad for you. I have the most sensitive skin ON EARTH and I am not breaking out from this. Usually, if it is not right for my skin, I will break out almost immediately. I've been using this stuff for a good two weeks now and my skin has actually been getting clearer. (probably not from the powder but point is my skin is not breaking out from it.) I will be a long time user of this stuff for now.

One of my favorites!

It's pricey for my budget, but it's a great pressed powder and I always run out of it. It's got a silky smooth finish, and I find it easier to use a brush instead of the sponge to apply it over my foundation.

Back
to top