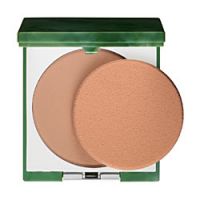 Nonirritating Powder

Some drugstore products make me react horribly.Always fearful of items placed on my face, I tried this powder to give me a finished look. I should have known that a Clinique product would be all right. I have this pressed powder in STAY NEUTRAL and it takes away shine from my forehead, makes my skin look naturally smooth, and although it is a Department Store item, it doesn't cost an arm and a leg.

Good Product, But-

Honestly, I love this product. I have very fair skin and it's often hard to find something that matches my skin tone without making it look washed out. Of course, it may have helped out that one of the makeup artists helped me pick out my shade. In any case, like I stated before, I love it. The only bad part is the fact that if you put the sponge back into the case the oil from your face can turn ...read morethe product hard. I was told to just scrape the top part off, but I feel like if I pay $20 for a product, it shouldn't turn somewhat hard on top within a few weeks. That's the products' only downfall.

great product

clinigue offers great shades of these products, always been very happy with them!

Back
to top