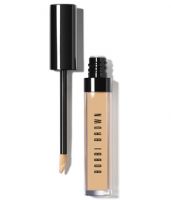 Like Putting a Piece of Gauze Over A Camera Lens

I use this very, very sparingly from the corner of my eyes, to right before the "crinkles." It's like putting a piece of nylon over a camera lens. It softens the result. The only warning, don't put on too much -- or you will emphasize the wrinkles. You can also add this to your foundation or tinted moisturizer for a luminous glow.

Bobbi Brown Tinted Eye Brigtner

omg.. this is the BEST undereye cover/illuminator I have used... better than YSL touche eclat and similar products. I have shade 1 and I use it over my BB Eye cream, and it smooths out beautifully, covers the last remains of a sleepless night and makes me look young and refreshed. For this alone, this is worth the money! The texture of this product is like a whipped mousse -- smooth and creamy. ...read moreIt spreads divinely and gives that special glow with only a very small amount of product, so despite it's price it will last a long time. The one thing I do not like about it is the inner plastic cover -- it is hard to remove (unlike MUFE who put a small tab on their cream products which can be pulled up) and once removed, it moves around and the cream gets on your fingers, brush, or you simply pick up way too much product. You do not need much of this to spread on your eyes, cheek bones or anywhere else. There is no GLIMMER.. which is a bonus for me at my age as I truly hate glimmer or glitter. This is a subtle sheen which is amazing. I have taken off a lippie for the packaging which bums me out everytime I lose product --- I will have to spatula it out and get rid of the plastic inner liner once and for all, but I will definitely repurchase.

Great but does not last all day

I love this product. I only need to use a small amount to see a big difference. One regular size container lasts me a couple months with using it daily. However, my only complaint is, that even with prep and primer, the product just does not last all day. I never have to apply more than twice during the day but that is one more time than I do the rest of my make up. It is a bit like lipstick, you need to touch it up every so often. Still a great product though, a MUST HAVE for my make up bag.

Back
to top