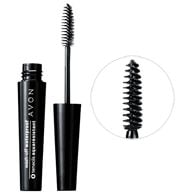 An okay mascara.

Yes, it's more waterproof than the average mascara, and it's easier to wash off than your typical waterproof mascara. But the brush and formula aren't really anything special. It is affordable, and does live up to it's claims, but it's just alright overall.

good, super value

its a total safe bet as far as mascara, coats, defines and gives you nice color, and doesnt smear or flake. easy to remove, not irritating. can be clumpy, and isnt very dramatic, but its good for everyday, even blends well into falsies and tips.

Nice product

Not my favorite mascara but not the worst. It goes on well, but doesn't do much for my lashes other than color the. it stays on all day without flaking, smudging, or giving raccoon eyes. It doesn't irritate or smell weird. It is (at least for me) a bit tough to get off at nigh, even with makeup remover and cleanser. It takes a bit of time to remove it, and when I am done it almost feels like ...read moremy lashes are really dry. I would say this is a good mascara to use in a pinch, but Avon makes other that are better.

Back
to top