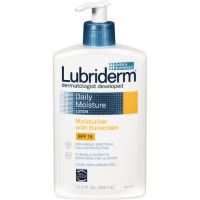 Editor's Rating & Review
This truly is "a light, clean-feeling, non-greasy, everyday lotion." The creamy texture delivers heavy-duty hydration but with a fast sink-in factor that allows you to get dressed right away. Doesn't claim to be fragrance free, but it won't compete with your perfume -- that and the sun protection are big pluses. The point dock is because it's only good for limited daily sun exposure and the pump makes it hard to get at the bottle's very last ounces.
Reviewed by the Total Beauty editorial team on 10/15/2007

How we review products
its good

and you get sun protection!

Bathroom staple.

This is the perfect lotion. It moisturizes well without being greasy, has SPF 15 (again, without being greasy), and no fragrance so it doesn't interfere with whatever else you might have on. It's very cheap for a huge bottle, and you can buy a tube of it to keep in your purse to reapply throughout the day. I would not use anything else.

SPF! I'm all for it

I'm glad Lubriderm made one with SPF in it! It's a good lotion for the price. Light fragrance, softens skin. Love it!

Back
to top